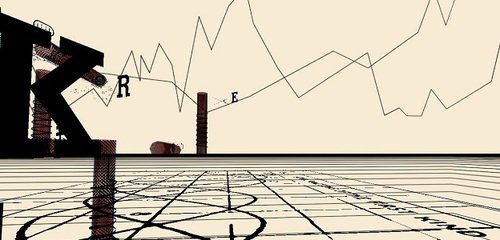 By Max Mallory
Score: 7.4
I like weird games. I really do. Some of my favorite games are the ones that most mainstream gamers would be creeped out by. Jazzpunk is a weird game. I don't mean to use "weird" as a negative adjective there, either. Weird is good. Throughout the four-ish hours of gameplay you can squeeze out of Necrophone Games' adventure, I was weirded out, but I was laughing all the way to the intestines. I mean, ending.
Jazzpunk is simultaneously an homage and a sequel to the era of old spy movies and cold war scares. This mood is set immediately by the opening sequence, which looks like a first draft of the opening to Archer, or an abstract artist's short film. Even the 2.5D world (I don't even know if it would qualify as that, seems more like 2.75D) the game takes place in has a unique and bizarre art style about it. Characters are extremely basic in their design, buildings are highly stylized, and your objectives simply pop up as text in front of you during gameplay. It breaks many of the tropes expected of an adventure game like this, making for a really weird experience. But again, weird is good.
I know I keep bringing up the concept of weird and how it relates to this game, but at some point, that weirdness transforms into comedy. You have to be able to laugh at the absurdity of this thing. Not only that, but you have to take your time. Jazzpunk can be finished in less than an hour if you just run through it and only do the main objectives, but the experience is so much richer when the time is taken to meet the other characters and do some sidequests. Right from the first mission, the secondary storylines are plentiful, hilarious, and-in my eyes-necessary for the full enjoyment of this game.
The main problem I have with a lot of games that recommend sidequests is getting lost. When I played through my first Elder Scrolls game, I took on too many sidequests and wasn't able to keep track of it all, even with the in-game quest log. In Jazzpunk, it's pretty impossible to stray too far away from your main goal. The level design fits like a glove. It allows you to explore the worlds you're in openly without leaving and wandering off from where you need to go. There's only a couple of scenarios where I was a little lost on how to progress, and only one where I didn't have a clue where to go. Again, the level design leaves room for a lot of experimentation, but only so much, so getting stuck doesn't last long.
Some of my favorite moments of Jazzpunk were in the homage it pays to older games. I won't spoil these moments (the surprise is half the fun) but once you complete these, they are unlocked in the main menu as mini-games. This is perhaps the only replayability that this game has. As funny as Jazzpunk is, it's really only funny once or twice. Any more than that, and players will be listening to repeated jokes and getting bored.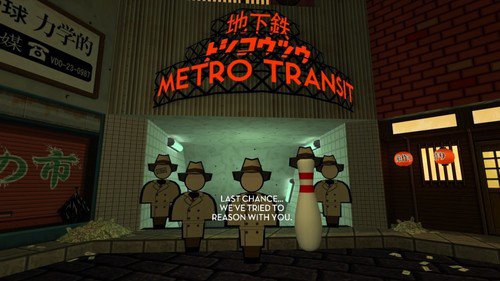 The price tag of $14.99 is becoming the standard for these three to four hour long indie games, but it's just a bit too steep for Jazzpunk. If you can get it while it's on sale (as of press time, Steam is selling Jazzpunk for $11.99) then it's a steal, but for the length of the game and the lack of replayability, I wouldn't recommend picking it up at the current price.
Jazzpunk is definitely enjoyable, as long as you keep an open mind. It has elements that will detract from it, but the world is immersive, funny, and worth your time. What you think of video games is moot once you're into this world, you'll be laughing too much to think about it. And remember, don't judge a game when people call it weird. Weird is good.